RoboCanes in Final at World Robot Summit
RoboCanes made it into the finals of the the World Robot Challenge at the World Robot Summit in Tokyo last week. The RoboCanes@Home team took part in the Service Robotics category, where people and robots have to collaborate within a regular home environment. RoboCanes focused on one particular challenge: the "Bring me" challenge, where, based on the operator's instruction, the robot autonomously needs to get an object from a list of four known objects and one previously presented unknown object. This test focuses mainly on object memory, human robot interaction, semantic mapping, object perception and manipulation. 14 teams from nine countries competed, among them the current World Champion in the RoboCup@Home league, team Hibikino-Musashi from Japan. RoboCanes was able to beat eR@sers (3rd in the world), and was on par with the PUMAS (2nd in the world). RoboCanes was the only team from the United States to make it to the finals. Have a look for yourself, here is a video of our robot bringing a flashlight (live on TV in Japan last Friday).
‌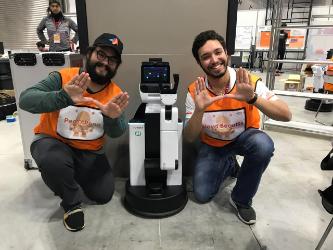 ‌
---
Non-CSC Students
NEWS@TheU had an article about non-CSC students taking our programming classes.
‌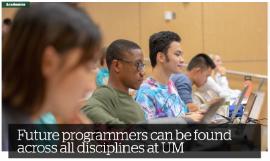 ‌
---
Prof. Mitsu Ogihara's book is out
Prof. Mitsu Ogihara's book "Fundamentals of Java Programming" has been published. Congratulations Mitsu!
‌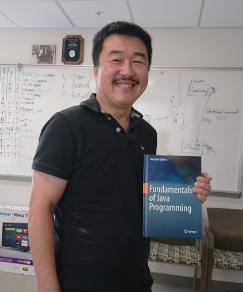 ‌
---
Judah vs. RoboCanes
Judah Friedlander challenges RoboCanes, soccer playing robots from the University of Miami. He learns how well robots can work together and how bad they are at standing on two feet. And he challenges them to a match with the future of humanity on the line. Shown on TechCrunch.
‌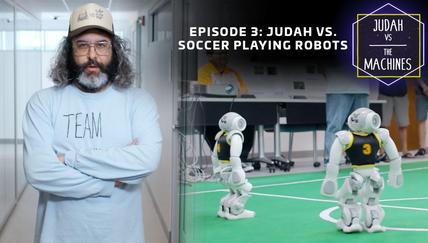 ‌
---
RoboCup US Open at UM
The University of Miami is hosting the RoboCup U.S. Open 2017, 28th-29th April 2017. The RoboCup Standard Platform League is a one of the RoboCup soccer leagues where all teams participate using the same robot, the NAO robot from SoftBank Robotics. These robots play fully autonomously and each one takes decisions separately from the others, but they still have to play as a team by using communications. The teams play on a green field with white lines and goal posts, with no other landmarks, and the ball consists in a realistic white and black soccer one. These game characteristics generate a very challenging scenario, which allows improving the league every year.
‌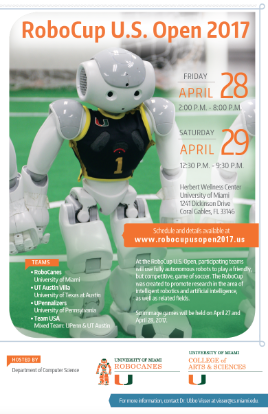 ---
Prof Ogihara wins Best Paper Award
Prof Ogihara's paper "Mining Library and University Data to Understand Library Use Patterns" won the award for the best paper of 2016 in the journal "The Electronic Library".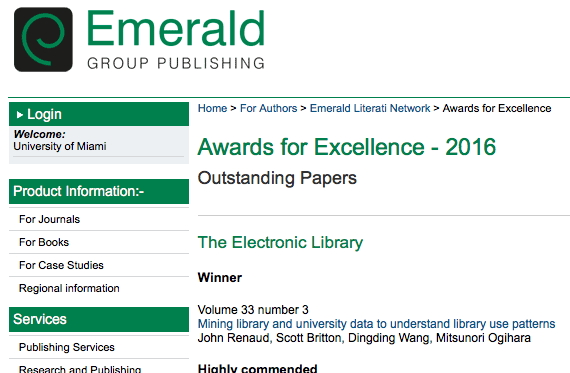 Prof Wuchty recognized for his Scholarly Activity
Prof Stefan Wuchty received one of the three annual College of Arts and Sciences awards for scholarly activity, recognizing his impressive research achievements during the academic year.
‌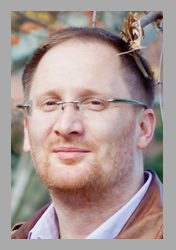 ---
CSC PhD Students doing Great Things
Computer scientists possess important skills, which go far beyond computation and coding – and which can be applied to numerous areas of interdisciplinary research. Many people can write programs, but a computer scientist can write the next program. In the six years since the department launched its Ph.D. program, its advanced students have engaged in research with applications for healthcare, robotics and beyond – with remarkable potential to change our world.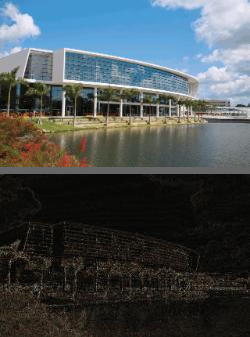 ---
Brian Blake named Editor in Chief of IEEE Internet Computing
Brian Blake has been named Editor in Chief of IEEE Internet Computing. The IEEE Computer Society is the world's leading computing membership organization. IEEE Internet Computing presents novel content from academic and industry experts on a wide range of topics, including applications, architectures, information management, middleware, policies, security, and standards. The magazine consistently ranks among the top 10, and often in the top 5, for influence and impact of all the computer science/software engineering journals listed in the Thomson Reuters Journal Citation Reports.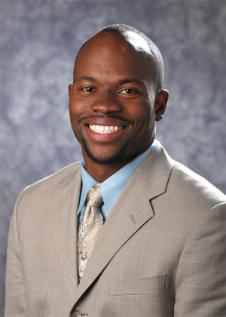 ---
Prof Visser member of BD2K Grant Team
A team of University of Miami researchers, including Prof Ubbo Visser, is part of a trio of institutions that have been awarded a $20 million grant from the National Institutes of Health to create a Center to integrate and analyze large and diverse datasets of cellular signatures as part of the Big Data to Knowledge (BD2K) initiative.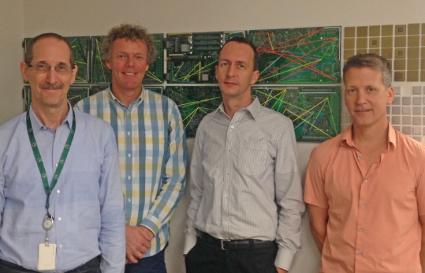 ---
Prof Sarkar Awarded Patent
Prof Dilip Sarkar has recently been awarded a patent for a technique that improves WiFi access.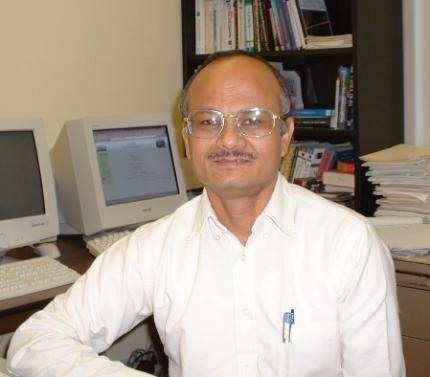 ---
RoboCanes claim  2nd place at Robot Soccer World Cup 2014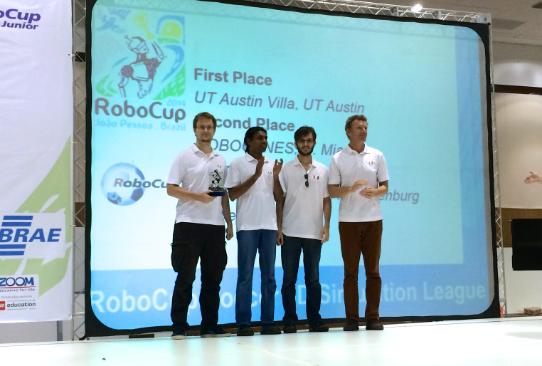 ---
Congratulations to our 2014 Champion, Nelson Dellis!
17th Annual USA Memory Championship
March 29, 2014, New York City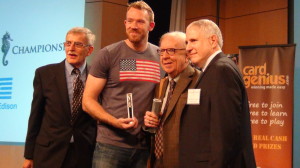 Pictured from left to right:
Tony Dottino, Nelson Dellis, Dr. Restak and Marshall Tarley.
---
RoboCanes - 
eMerge Americas Techweek Expo and Summit in Miami Beach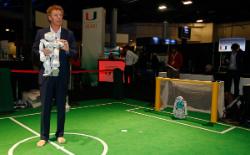 ‌
Ubbo Visser, an associate professor of computer science, demonstrates the autonomous, programmable robots used by his students to compete in international robotics competitions. The mechanical humanoid drones of the University of Miami's RoboCanes soccer team were a crowd pleaser on the first day of the eMerge Americas Techweek Expo and Summit in Miami Beach, drawing curious onlookers enamored by all things tech.
---
Computer Science Alumus Returns to Discuss Keys to Success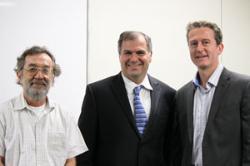 So, why does someone major in Computer Science? "I wanted to build code that does something," said alum Al Monserrat, who returned to campus recently to speak to UM students about his experiences creating his own startup and working as SVP of Worldwide Sales and Services at Citrix, an industry leader and multi-national cloud computing company that enables mobile workstyles. 
Awards for Profs Schwartz and Ogihara
At the 2016 College of Arts and Sciences Faculty Scholarly & Creative Activities Recognition Reception, Prof Odelia Schwartz received one of the three Certificates of Excellence for Scholarly & Creative Activities, and Prof Ogihara was awarded a Cooper Fellowship. Congratulations to both!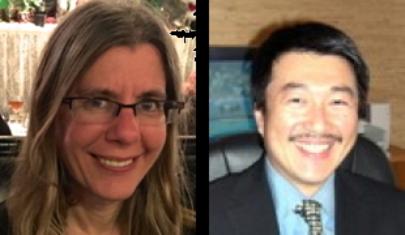 ---
Negin Arhami
Negin Arhami is the first female PhD graduate from the Department of Computer Science. She defended her thesis "Automated Theorem Proving by Translation to Description Logic" on the 28th October, and is off to a career with Microsoft. See the e-Veritas article.
---
Fernanda Viegas and Martin Wattenberg
Join us for a networking event with the speakers from our 2nd VizUM Annual Symposium Fernanda Viegas PhD and Martin Wattenberg PhD of Google's "Big Picture" data visualization group, plus UM faculty in STEM fields (Science, Technology, Engineering, and Mathematics).  As leaders of Google's "Big Picture" data visualization group , Fernanda and Martin invent new ways for people to understand and explore data. They are well known for their global contributions to social and collaborative visualization, and their visualization artwork has been exhibited at museums worldwide.  Lunch will be provided.  This event is open to University of Miami students only.  This event is sponsored by the Department of Computer Science,  the Center for Computational Science, and the Women and Gender Studies Program of the College of Arts & Sciences.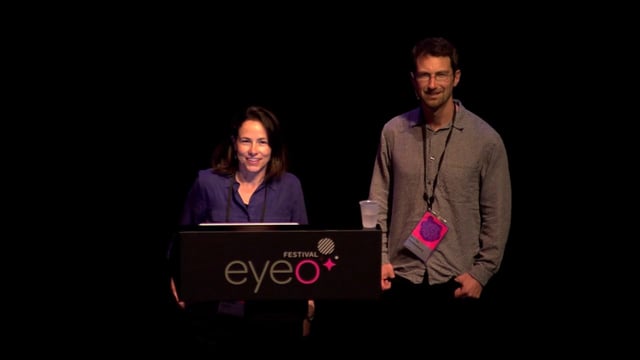 ‌
---
Women in Tech Careers
Did you know that in 2013, just 26 percent of computing jobs in the United States were held by women? Several panelists from academia and industry have been invited to the University of Miami (UM) to discuss the challenges facing women in tech careers today, and how we can work together to resolve those challenges. More information here.

---
RoboCanes USA Open 2015
The Dpartment of Computer Science's autonomous soccer playing robot team "RoboCanes" won the RoboCup US Open 2015 competition yesterday. The US Open are the American Championships and one of the three big events prior to the World Championships that take place in Hefei, China in July this year.